Best Bras For Breast Asymmetry
Style it out
Bra shopping can be a real pain in the chest sometimes. Some bra styles are tried and tested to work well for uneven boobs. Here is a whistle-stop introduction that might help you get started.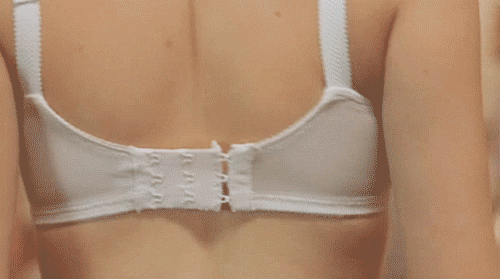 Contour (Moulded) Cups and T-shirt Bras
Bras that are lined with a thin layer of foam within the entire cup can be really flattering as they can help give both breasts a more uniform shape and a smooth appearance under clothing. These bras are different to padded push-up bras which typically have a thicker portion of foam at the bottom of the cup which is designed to add size and cleavage.
When you're shopping for moulded cups, explore the materials and fabrics used. If the cup is too rigid, this might make the gap more noticeable if the cup sits away from the skin on your smaller side with the breast not filling the cup. If you can, it's worth a splurge on spacer fabric cups, rather than traditional foam lining (spacer fabric is a uniquely knitted fabric, constructed of 2 layers of thin fabric, joined together with a spacer yarn and designed to create airflow and light padding - a little like 'memory foam'). These spacer fabric cups hold their rounded shape because they mould to your breast and they also don't wrinkle if they're not completely filled. A spacer bra will give you a more visually balanced silhouette.
Bralettes and Stretchy Bras
Bras with stretchy cups or stretchy lace panels along the top of the cup will mould to your breast size and shape. These are particularly suitable for smaller cup differences. You can also adjust each shoulder strap a little differently to tailor the fit of each cup to obtain a more balanced look.
Bra Shapes and Styles
What else can help? Consider the cut of the bra too – plunge or balconette styles which show more cleavage can sometimes accentuate a difference in breast size whereas full cup bras which cover more of your breast are more forgiving. Their fullness also means they can hold an Evenly® Bra Balancer™ more comfortably without any risk of it peeping over the top of the bra. We recommend giving yourself plenty of time and trying a variety of styles to see what works best for you. This way you're more likely to find that 'Goldilocks' style - the one that's just right for you.
Swimwear Options
When you fancy a splash, the same principles apply when shopping for swimwear. Look for swimsuits or bikini tops with slightly padded, full coverage cups. You can then wear your Evenly® Bra Balancer™ on your smaller side (some swimwear has handy pockets to hold inserts) and no one will ever be any wiser.
We'd love to hear from you if you have bra recommendations or shopping tips for breast asymmetry. You can share your experiences in our safe and supportive free Facebook Community The Uneven Titty Committee, or drop us a message on Facebook or Instagram.